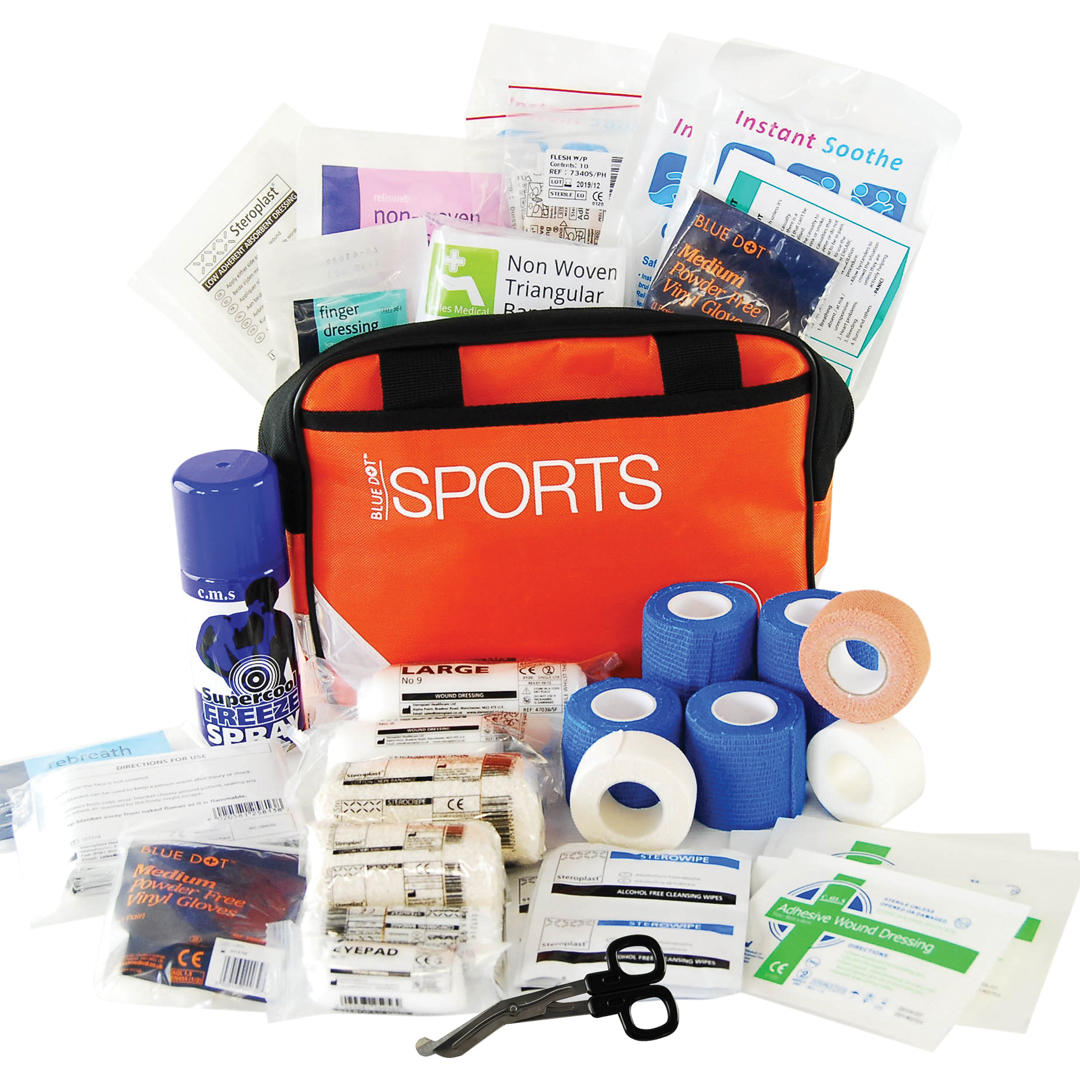 Professional Sports First Aid Kit
0 Reward Points SKU: SPOKC Brand: Availability:
---
The ideal bag for all your sports teams to carry pitch side. Made in tough padded orange fabric with black trim and webbing carry handles and a shoulder strap. The extensive contents list includes cold packs, dressings, plasters, swabs, wipes and everything your sports teams will need. Bag size 25 x 19 x 11cm.
Contents
1 x First Aid Guidance Leaflet 1 x Pair Small Tufkut Scissors 1 x Cold Spray
3 x Instant Cold Packs
1 x Gauze Swabs Sterile 10 x 10cm x 5 1 x Non adherent Dressing 10 x 10cm 3 x Non adherent Dressing 5 x 5cm
3 x Big Plasters 10 x 9cm
3 x Big Plasters 6 x 8cm
20 x Assorted Plasters
10 x Moist Wipes
1 x Small First Aid Dressing
1 x Foil Blanket
1 x Non Woven Triangular Bandage 1 x Eyepad with Bandage
1 x Medium First Aid Dressing
1 x Large First Aid Dressing
1 x Crepe Bandage 10cm
1 x Crepe Bandage 7.5cm
1 x Conforming Bandage 7.5cm
2 x Cohesive Bandages Blue 7.5cm
2 x Cohesive Bandages Blue 5cm
1 x Elastic Adhesive Bandage 2.5cm
1 x Microporous Tape 2.5cm x 10m
1 x Lite Elastic Adhesive Bandage 2.5cm x 4.5m 2 x Pairs of Vinyl Gloves
1 x Personal Resuscitator
---