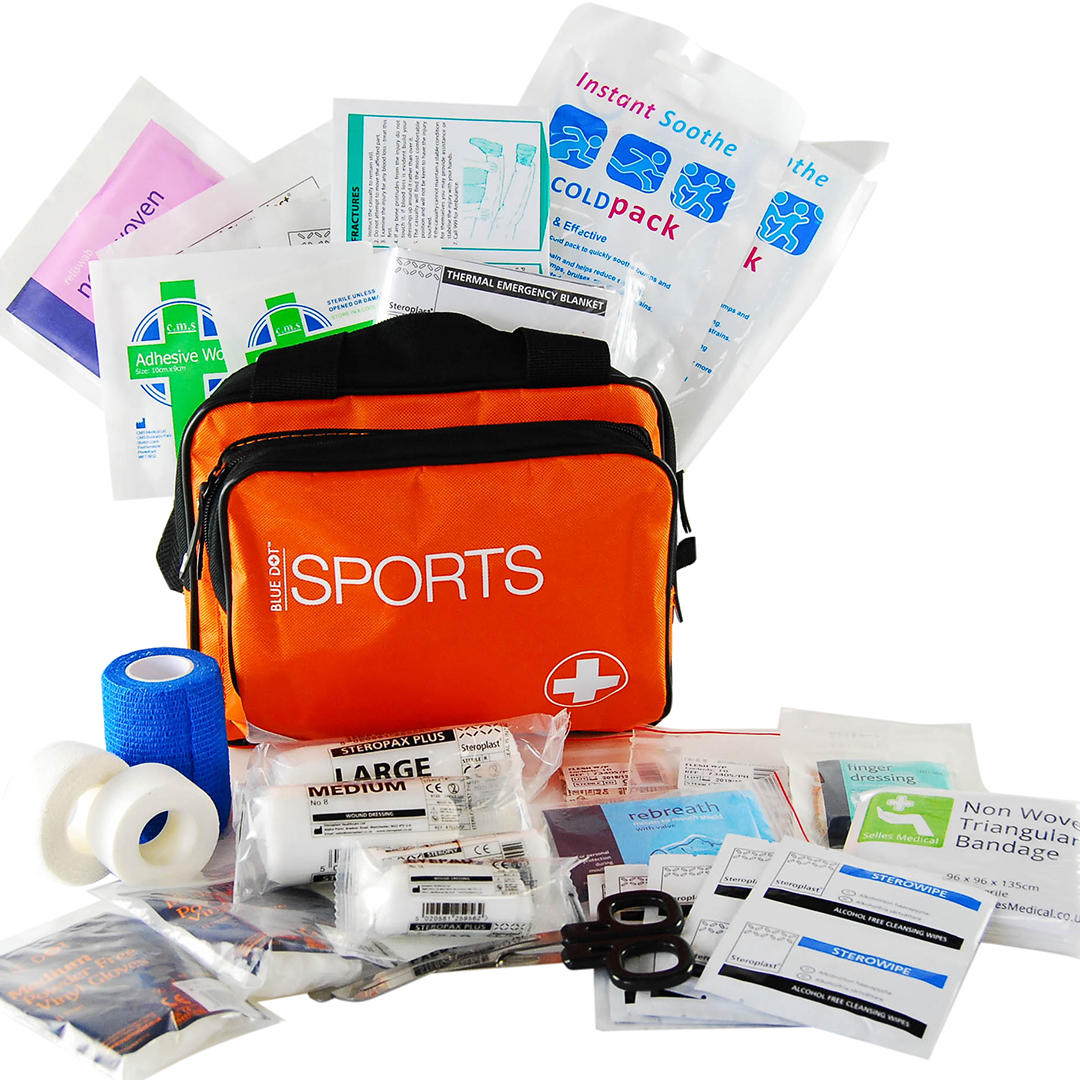 Bum Bag Sports First Aid Kit
0 Reward Points SKU: SPOKB Brand: Availability:
---
An orange bum bag 25x9x16cm with additional front pouch, foam padded walls and black trim. This bag has a 4cm wide adjustable webbing belt and also webbing carry handles. Contents suitable for all active contact sports. 
Contents
1 x First Aid Guidance Leaflet
2 x Instant Ice Pack 30 × 13.5cm
1 x Tufkut Scissors Small 15cm
1 x Non Woven Sterile Swabs 10 × 10cm Pk5
1 x Low Adherent Dressing 10 × 10cm
3 x Low Adherent Dressing 5 × 5cm
3 x Non Woven Adhesive Dressing 10 × 9cm
3 x Non Woven Adhesive Dressing 8 × 6cm
1 x Triangular Bandage Non Woven 90 × 127cm
1 x Aluminium Foil Blanket
1 x Large First Aid Dressing 18 × 18cm
1 x Medium First Aid Dressing 12 × 12cm
1 x Eye Pad 7.5 × 5.5cm with Bandage
1 x Cohesive Bandage 7.5cm x 4.5m Blue
1 x Elastic Adhesive Bandage 2.5cm x 4.5m
1 x Microporous Tape 2.5cm x 10m
1 x Crepe Bandage 7.5cm x 4.5m
1 x Non Alcohol Wipes x10
1 x Conforming Bandage 7.5cm x 4m
20 x Waterproof Plasters Assorted
1 x Small Finger Dressing 3.5 × 3.5cm
2 x Vinyl Powder Free Gloves 1 Pair
1 x One Way Valve Resuscitator
---